Admissions and Informal Visits
Admissions
The local authority is the admissions officer for Batchwood School and all referrals are managed by the Special Educational Needs Department. Detailed information can be found by accessing the following website www.hertsdirect.org shown below:
From the www.hertsdirect.org website click on school admissions for more information.
The following screen will open – please click on secondary and upper schools to obtain more detailed information as detailed on the next screen:

The next screen provide detailed and up to date information about applying for secondary school. Because at Batchwood we cater for pupils who have special educational needs, our places are allocated through a different process. Please click on the Children with Special Educational Needs box to obtain more details as shown below:
Transport to School
The http://www.hertsdirect.org website, also contains very useful information about Home to School Transport. Please click on the Transport for Pupils with Special Educational Needs, Learning Difficulties and Disabilities to access the details below. The School Transport Team can be contacted by calling 0300 123 4043 or emailing schooltransport@hertfordshire.gov.uk.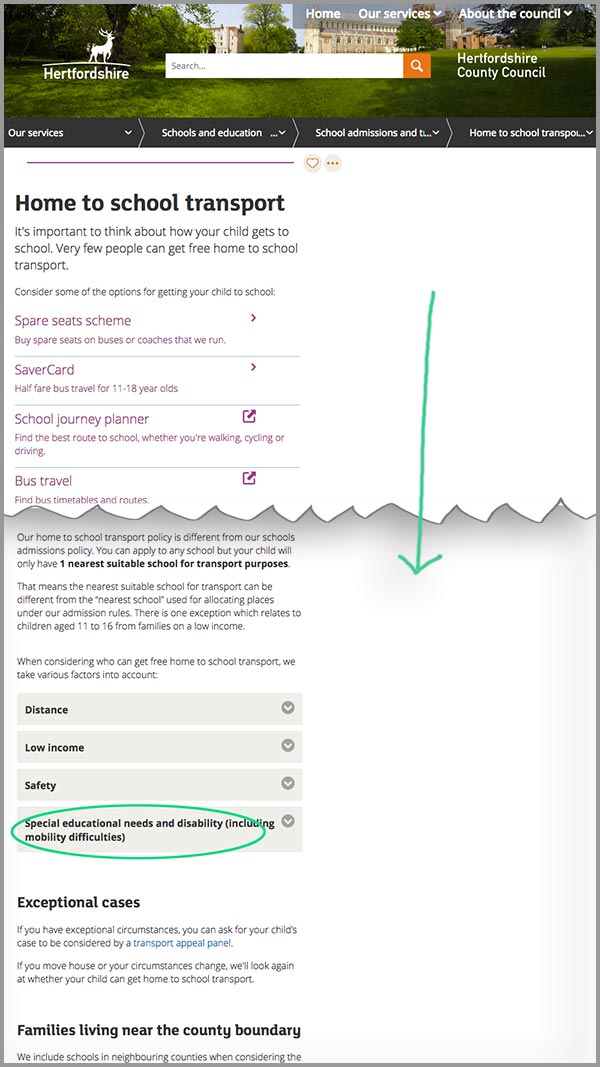 How it works
All students admitted to the school are the subject of an Educational Health Care Plan of their Special Educational Needs. Students can be admitted to Batchwood School at any stage of their secondary school career.
Students are only recommended for special schooling after a full formal assessment of their educational needs has been made by members of the educational and psychological services in close co-operation with you, as the student's parents. No student is admitted to this school without a signed acceptance, by the parents, of the offer of a place.
If a place is offered, then parents are asked to complete a few forms for administrative purposes as this greatly helps the process of changing schools.
Please ensure these are completed as promptly as possible and returned to the school.
If you have any queries, or require additional information or assistance please contact the school by calling 01727 868021, or emailing admin@batchwood.herts.sch.uk, and we will do our best to help.
Informal Visits
We are always delighted to show parents/carers around the school and invite them and their child to see the school as soon as possible after receiving a request to consider them for admission
This is a good opportunity to view our buildings and facilities, talk about the school and special education in general and answer any questions or queries. In many cases parents are invited to make an informal visit to the school during the initial assessment period.
Please note that an invitation to visit does not constitute an offer of a place, nor does it indicate that the final outcome of an assessment will be a recommendation that the child comes to a school like Batchwood.
All such decisions remain in the hands of the County Council's Special Educational Needs Department.
Important notice
Please note the information displayed here is obtained from the Hertfordshire County Council (HCC) web-site www.hertsdirect.org and may therefore be liable to change.
Whilst the school will endeavor to ensure these pages are regularly updated, we cannot be held responsible for any omissions and parents/carers are strongly recommended to check with HCC for current details.
The Council can be contacted by calling their general number, 0300 123 4040, and asking to be put through to the schools admissions department.
The School Transport Team can be contacted directly by calling 0300 123 4043.